Smart modules for groundbreaking technology - Embedded Vision makes your devices and applications intelligent. Benefit from the key technology - and from the latest components for fast, easy and cost-effective integration.
Become part of the (R)Evolution!
In all branches of industry, embedded vision opens up new possibilities for capturing and evaluating extensive data and acting fully automatically. This makes devices and applications smarter - and thus our everyday lives easier, safer and more convenient. Ultra-compact, smart and energy-efficient embedded vision systems and components that are suitable for integration into any system are the driving force behind technological progress.
At embedded world, we will show you how you can benefit from this and contribute to a more sustainable future together with us!
Nuremberg, March 14 - 16, 2023
VC Highlights at embedded World:
VC MIPI® cameras and VC PowerSoM
Our new MIPI camera modules and the VC PowerSoM hardware accelerator enable fast and easy integration of embedded vision into your projects.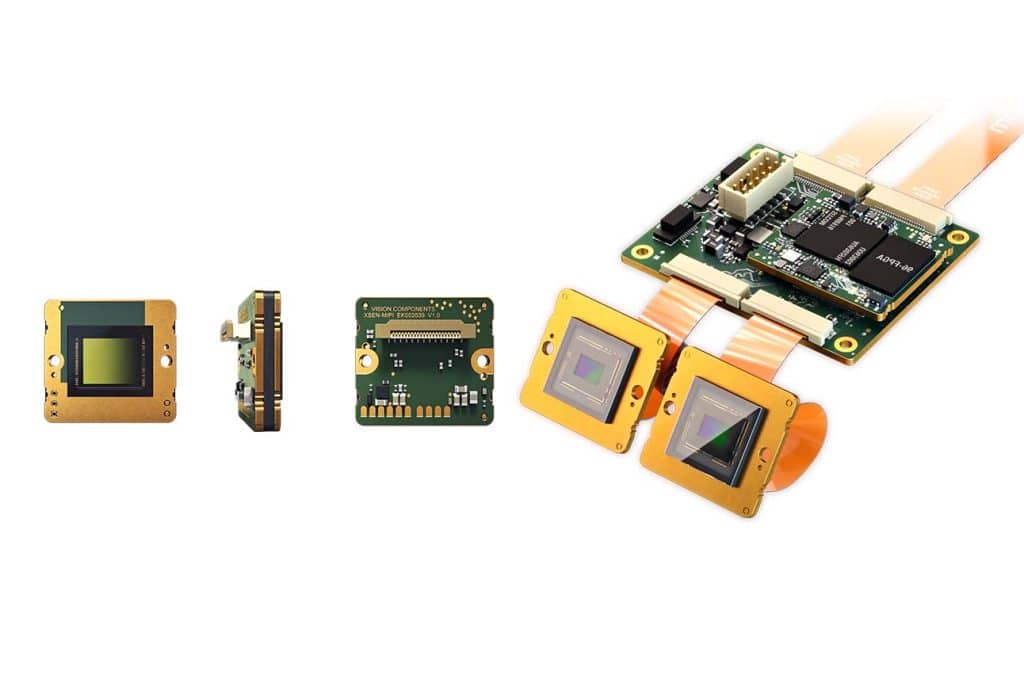 VC PowerSoM
VC Power SoM is an FPGA hardware accelerator that can be integrated as a component in embedded vision designs. The module is extremely compact, measuring only 28 mm x 24 mm, and is equipped with advanced FPGA technology and comprehensive image processing functionalities. It can be integrated right into an embedded vision mainboard design for volume production or combined with an I/O board with multiple MIPI interfaces. For the main application, OEMs thus have the entire computing power of their preferred embedded processor board at their disposal.
VC MIPI®
Our MIPI modules offer you the greatest variety of sensors and can be flexibly integrated into your application. Recently, the range now also includes MIPI modules with SONY sensors of the Pregius S series as well as new MIPI cameras for SWIR and 3D/ToF applications.
Visit our presentation at the embedded world Conference!
Presentation by Jan-Erik Schmitt, CEO Vision Components:
"Smart Devices for a Better World: The Embedded Vision (R)evolution"
16 March 2023 | 11 – 11.30 a.m.(CET)
Jan-Erik Schmitt will give you an overview of the (r)evolution and state of the art of embedded vision systems. It has never been easier to flexibly integrate modules into the design of your embedded vision solution. Using numerous application examples, Jan-Erik Schmitt will show how you can make the best use of the latest technologies for your solution and use smart development to shape the future in a sustainable way.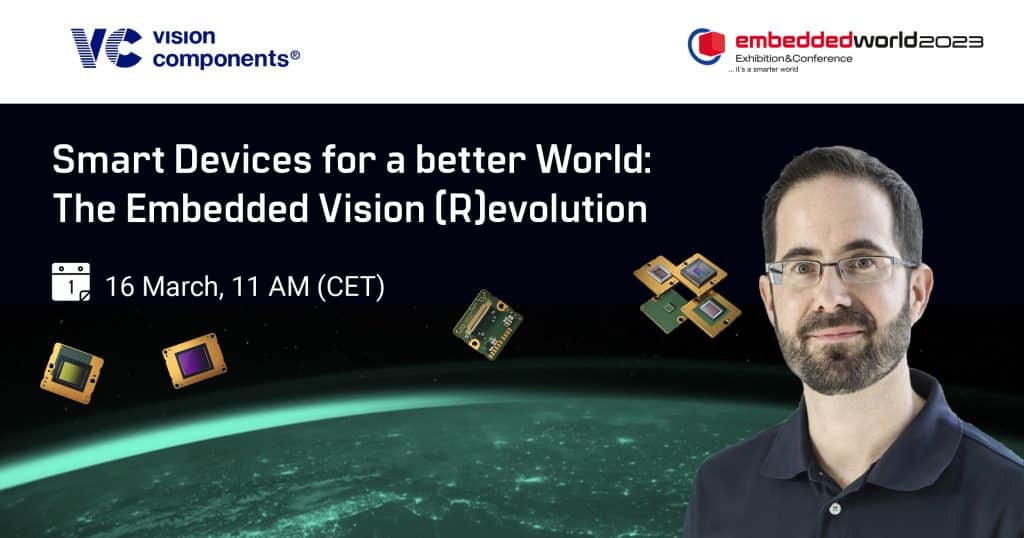 Let's get in touch!
You want to learn more about our smart applications? Meet the VC team at embedded world and get into conversation with us, or make a personal appointment where we talk in detail about your project.
Responsible & Sustainable:
Embedded vision systems for a smarter future
This is how we increase sustainability and take responsibility
Modular design of our embedded vision systems
Greatest flexibility with MIPI camera modules
Durable and high quality design
Highest performance and cost optimized price
Low energy consumption
Development and production in Germany
Embedded vision in action
From smart home applications to intelligent traffic control and medical technology - embedded vision systems are used in numerous fields:
Smart city solutions: Traffic monitoring, parking space management, establishment of environmental zones.
Factory automation: safe and efficient production processes, optimization of logistical processes
Health and medical sector: diagnosis, monitoring and treatment of patients
Smart farming: more environmental and resource protection through targeted use of water, fertilizers, etc.
Smart home applications: Safety and comfort through automation
Development and production in Germany