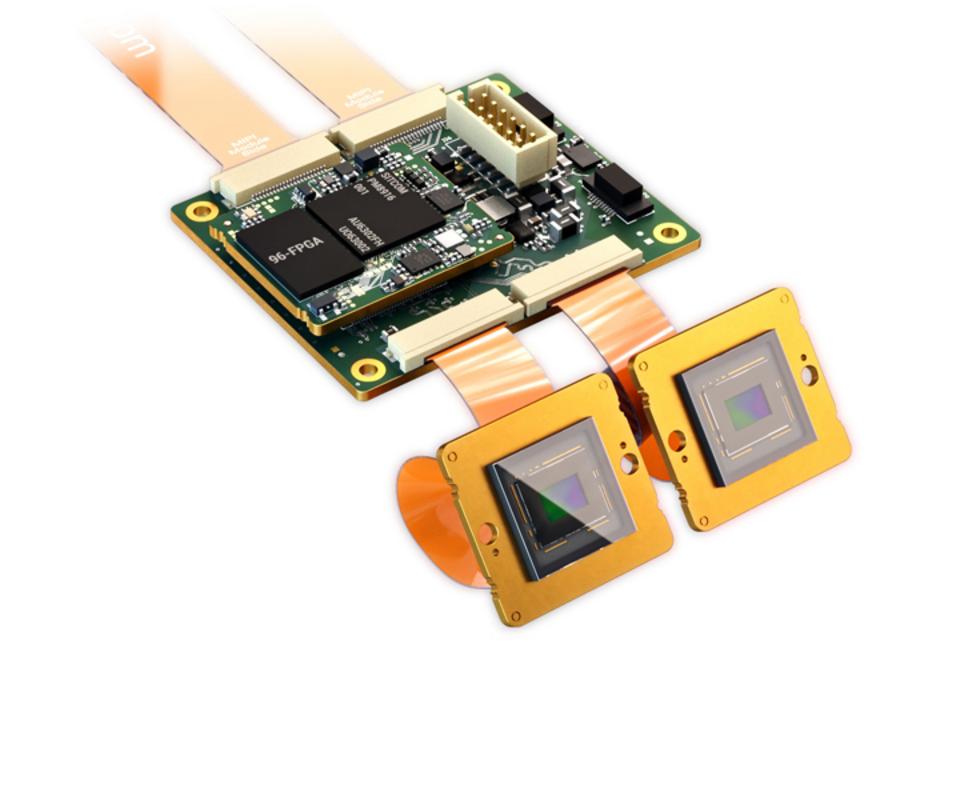 At Photonics West Vision Components will present new products for even more intelligence on the edge, additional applications and longer transmission paths. The FPGA-based hardware accelerator VC Power SoM was developed for complex image preprocessing. Results are directly transferred to a processor board.
Multiple MIPI-CSI-2 inputs and outputs mean that the accelerator is as easy to integrate as a conventional VC MIPI® camera module. OEMs can thus work with the embedded processor of their choice and use its full computing power for their particular application. The initial VC Power SoM launch comprises a completely open FPGA for customer programming and demo applications. Vision Components plans to follow this up with its own FPGA designs for applications such as color conversion, 1D barcode identification, epipolar correction, etc.
In addition to VC MIPI® camera modules with Sony Pregius S sensors, Vision Components has for the first time integrated SWIR and ToF sensors to enable 3D applications and extremely low-cost SWIR applications with MIPI modules. All VC MIPI® cameras are suitable for industrial use and work with common CPU boards. The manufacturer will also present the new VC Coax cable, a solution for high-speed data transmission over 10 meters and more, as well as new and proven embedded vision systems, notably, the world's smallest complete embedded vision system, which can now also be ordered as VC picoSmart 3D with a designated, ultracompact laser line module and ready-to-use preprogrammed 3D profile measurement functions. This is the time-saving solution of choice for OEMs who wish to develop extremely low-cost triangulation sensors. with less effort.
Vision Components at Photonics West
San Francisco, 22 – 27 January 2022
Hall E, Booth 3185