Measure and Control
Bending Angles
OEM systems for integration into press brakes - autonomous and with direct connection to controls
Biegewinkel in Abkantenpressen messen und regeln
OEM systems for integration into press brakes - autonomous and with direct connection to controls
Angle measurement in sheet metal bending: Measurement of the bending angle and real time process adjustment
"3D angle measurement in die pressing and other forming processes in metalworking enables direct readjustment of the process and thus reduces the production of faulty parts. This increases the productivity and efficiency of plants."
Vision Components offers manufacturers of press brakes and similar applications intelligent systems that check angular accuracy and transfer their measurement results directly and in real time to the machine controller. They do not require an external computing unit - this saves costs and reduces complexity.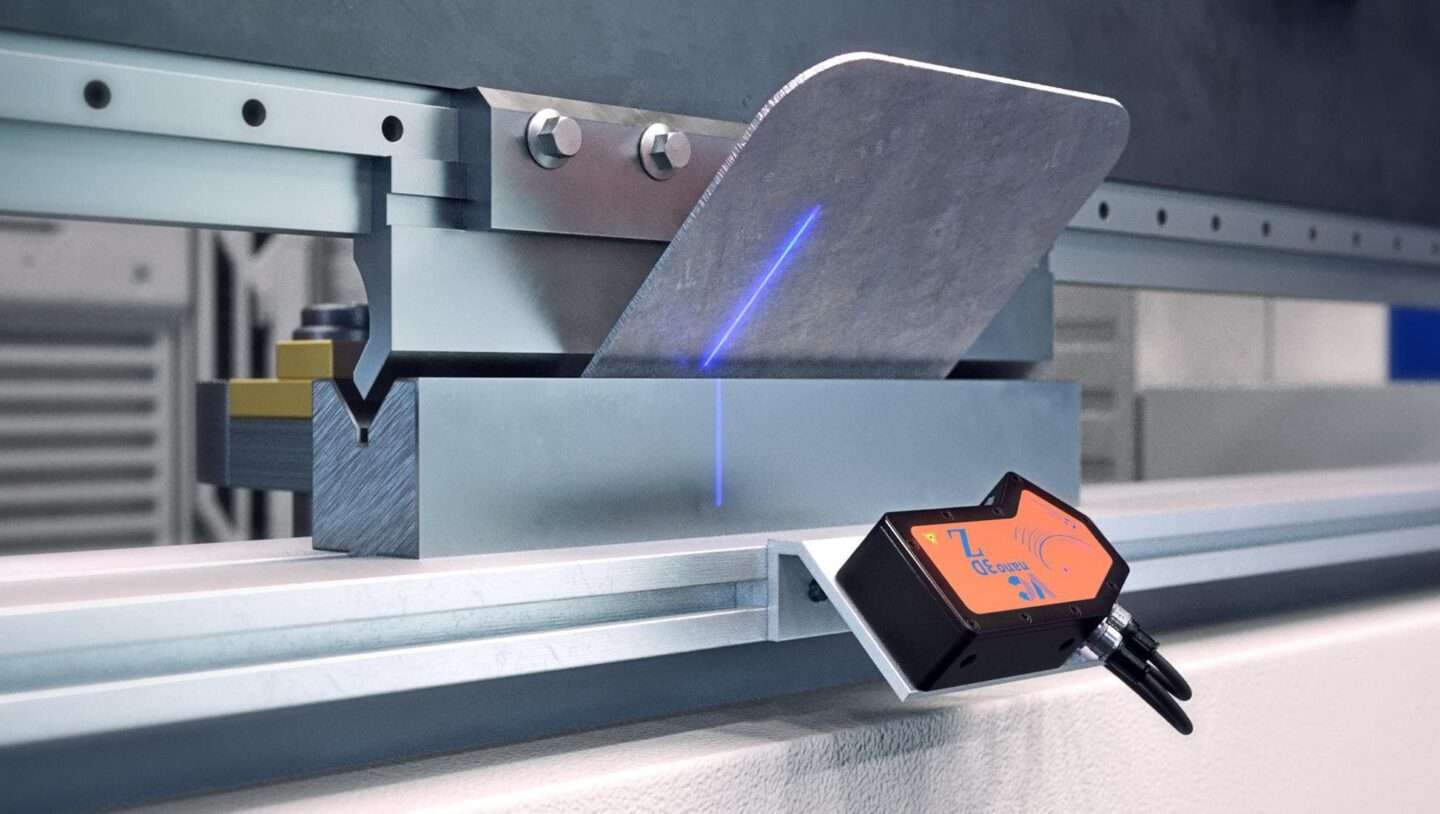 The laser profilers VC nano 3D-Z enable the adjustment of the contact pressure during die pressing - in real time, autonomously and with direct connection to the control system.
Laser triangulation systems for press brakes and metal processing
Inspection of metal parts
steel, sheet metal and other materials
Foiled and shiny materials
Optimiert für die Metallverarbeitung
Shiny, metallic surfaces place high demands on systems for process and quality control. The VC nano 3D-Z triangulation systems from Vision Components are equipped with a blue high-power laser that is specially optimised for this purpose. They can be used universally for measuring steel, sheet metal and other metals and are also suitable for foiled materials.
Insensitive to ambient light
VC's proprietary Ambient Light Suppression technology makes the laser profilers extremely insensitive to ambient light of up to
100,000 Lux.
High temperature stability
Components around the optics are made from special materials and thus improve temperature stability.
Protected from dust & humidity
A robust IP67-protected housing enables operation under harsh environmental conditions.
These features and the long-term availability of the systems ensure that VC angle measurement sensors are the optimal choice for industrial applications.
Are you looking for an individual profile sensor for your OEM applications?
With our modular electronics kit, you can quickly and easily create the right 3D sensor.
Flyer Optical Angle Measurement
Learn more about the plug & play solution for OEM provider!
Fast and precise measurement using laser triangulation
The basis of the optical inline inspection system, which can be installed on either side of the die, is the VC nano 3D-Z laser profilers. The compact unit consists of a laser module and an intelligent camera. It measures the angle between the workpiece and the die in real time and compares the values with a programmed reference value. In this process, the complete data analysis takes place directly on the autonomous systems - an external computing unit is not required. Due to the large detection range of the VC nano 3D-Z laser scanner, A speed of up to 400 Hertz and the high measuring accuracy of +/- 0.1 degrees ensure fast and precise adjustment of the contact pressure during the bending process. For this purpose, the result of the angle measurement is transmitted directly to the control of the bending machine. The connection to a PLC is simple and uncomplicated. Since recently, the connection has even been integrated into the controls of the leading manufacturer
Eine Geschwindigkeit von bis zu 400 Hertz und die hohe Messgenauigkeit von +/- 0,1 Grad sorgen für die schnelle und präzise Anpassung des Anpressdrucks während des Biegevorgangs. Dafür wird das Ergebnis der Winkel­messung direkt an die Steuerung der Biegemaschine übertragen. Die Anbindung an eine SPS ist einfach und unkompliziert möglich. In Steuerungen des führenden Herstellers DELEM. The management of die and sensor data is thus possible directly via the controls.
The VC nano 3D-Z sensors can be easily and precisely mounted on any system thanks to their rear dowel holes. A corresponding adapter board is available for test operation, with which two sensors for front and rear angle measurement can be mounted tool-free. The connection of the stand-alone angle measurement system to the PLC is just as quick and easy.
Flexible and cost-effective: Programmable stand-alone embedded laser profiler for easy OEM integration
Learn more about VC laser profilers and their advantages for sheet metal bending and other industrial applications!
Are you looking for an individual profile sensor for your OEM applications?
With our modular electronics kit, you can quickly and easily create the right 3D sensor.