VC nano 3D-Z Profile Sensors
Laser Profiler VC nano 3D-Z
Intelligent laser triangulation sensors with high power blue laser.
Insensitive to ambient light up to 100,000 Lux.
for triangulation applications with blue high power laser
Designed for OEM applications
IP67 Housing for rough environments
Insensitive to ambient light
Quick and easy integration
e.g. for angle measurement etc.
Also as kit or components
Choose the right level of integration
Engineered for industrial use
Stand-alone profile sensors with onboard data processing.
The VC nano 3D-Z series combines laser triangulation with high power blue laser and direct analysis of the data in a rugged protective housing.
Versatile and cost-effective
The result of the 2D/3D triangulation can be directly transferred to a central controller, an external PC is then not necessary. The combination of powerful FPGAs with a dual-core ARM processor, which can be used for the specific application tasks, make the VC nano 3D-Z the perfect basis for versatile triangulation applications with a favorable price/performance ratio.
The right profile sensor for every measuring range
Alternatively, the 3D point clouds can also be evaluated on an external PC and with existing applications. The profile sensors are available in different sizes for various measuring ranges.
Do you need an individual profile sensor or laser triangulation sensor?
As an OEM partner, we also develop and produce customized solutions, perfectly adapted to your requirements.
Insensitive to ambient light and temperature fluctuations
Advanced Temperature Stability Technology
The laser profilers feature our new Advanced Temperature Stability Technology (ATS). The temperature stability has been improved by the use of special materials for the components.
Ambient Light Suppression Technology
The Ambient Light Suppression Technology (ALST) developed by VC enables measurements with the VC nano 3D-Z laser profilers even at ambient light levels of up to 100,000 Lux. The high insensitivity to ambient light is based on the combination of extremely powerful laser and very short shutter rates. The VC nano 3D-Z not only analyzes the scanned 3D profiles, but can also evaluate the 2D gray-scale image.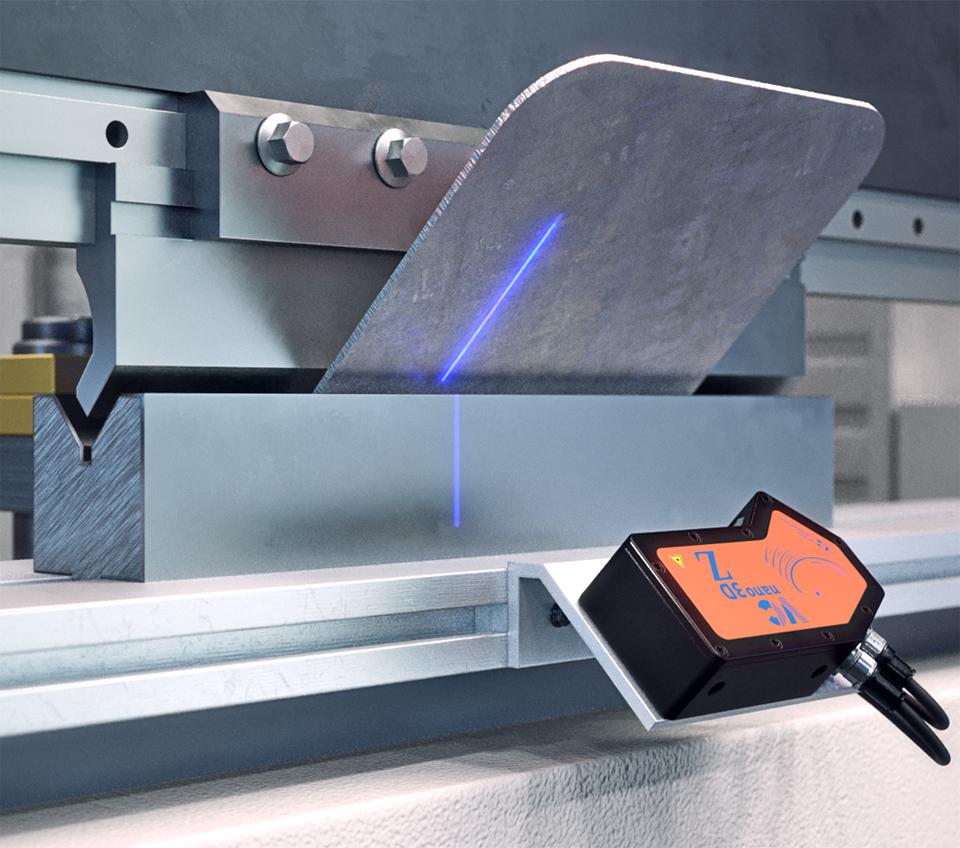 Measure and control bending angles in press brakes
3D angle measurement in die pressing and other forming processes in metal processing
No external computing unit required
Application examples for 2D and 3D laser triangulation
Automatic Guided Robotics
High-precision positioning of weld seam and adhesive beads
Tracking of gaps, lap joints, fillet welds etc.
Effects such as warping or material and position tolerances are automatically adjusted
Volume measurement for food portioning
Verifying specific weight
Sorting for quality classification
Automated handling of production parts
3D scan supports production processes by identifying parts and their correct positioning
Parcel scanning in logistics
Position and width measurement
Defect detection: Defect pictures, i.e. pores/pin holes, arches, dents
Parallel processing of 2D + 3D measure-ment
Profile and dimensional measurement: width, thickness, height, angle
Learn more about the VC nano 3D-Z Profile Sensors



Flexible OEM Laser Profile Sensors: VC nano 3D-Z
Ready-to-use, individual design, proven electronics or flexible board camera: The laser profile sensor VC nano 3D-Z with modular design is the optimal solution for your OEM application!

Webinar: Flexible and cost-effective integration of OEM laser profile sensors
Learn more about VC laser profile sensors and their advantages for sheet metal bending and other industrial applications!
Are you ready for a smart future?
Welcome to the inventor of the smart camera!
Brochure VC Triangulation Sensors
Download our latest VC nano3D-Z brochure in PDF format.